If You Like To Grind Your Coffee Beans yourself – like me – Then This List is For You
Here are the Top 10 Selling Coffee Grinders on Amazon in no particular order
 KRUPS F203
This Grinder is versatile. You can not only grind Coffee beans but also Nuts and seeds. It has an oval design with stainless steel blades. It Has a sleek design and a grind consistency from fine to coarse
Features
Can Grind Coffee Beans, Nuts, And Seeds
Can Grind Up To 3oz (125grams)
Lid Activated Safety Switch
The Price – Excellent Value
 JavaPresse Manual Coffee Grinder
The JavaPresse Manual Coffee grinder is a Burr grinder. It gives a very consistent grind so can get the brew you want. This grinder is quiet as it is manual and also has a stainless steel body.
Because it is portable it can be taken with you on your travels and outdoors so you can always have your favourite brew with you
Features
Built-in adjustable grind selector gives you 15 different settings to get the grind you like
No Power needed just your elbow grease so can be used anywhere
The hand crank mechanism is quiet so you can use it in places where noise is a problem
Has Ceramic burrs which can last up to 5 x longer than stainless steel
 Mr Coffee 12Cup Electric Grinder
The Mr Coffee 12 Cup Grinder is a blade grinder and can grind both coffee and spices etc. It comes with settings for grind and cup size that can make life easier. Coupled with that it also has the Chambermaid cleaning system
Features
3 Grind settings to choose from. Fine.Medium. Coarse
Cup size auto selection from 4 to 12 cups
Auto Shut off when your selection is ground
Removable chamber with Chamber Maid Cleaning System
Transparent lid so you can watch your grind
Safety On/Off switch
 Cuisinart DBM-8 Supreme
This Cuisinart Grinder comes with a brushed stainless steel finish. It is a Burr grinder and has 18 programmable settings from Coarse to fine that covers From French Press to Espresso.
This Grinder gives a good uniform grind and has an easy to read LCD that shows Time,Grind and number of cups
Features
Conical Burr Grinder for optimum flavour and taste
18 Grind selector from extra fine to extra coarse
Removable 8oz hopper
1 to 14 Cup Selector
Countdown timer and Auto Shut off
Manual Feature so you can do your own grind
Heavy Duty Motor and Cord storage. Scoop and Brush Cleaner
Hamilton Beach 80335R Grinder
The Hamilton Beach Grinder is both quiet and stylish. It is a blade grinder and can grind both coffee and spices with a handy storage compartment in the bas for the cord
Has a removable chamber for easy cleaning and filling with beans or spices
Features
Quiter than most competitors
Stainless Steel Blades
Can grind up to 9 tablespoons of beans , enough for 12 cups
Grind Coffee Beans and Spices
Removable Chamber for easy cleaning
On / Off switch
 Baratza Encore  Burr Grinder
The Baratza Encore is a Burr Grinder and is reputed to be one of the best entry level grinders of its type for home use. Manufactured in Europe the grinder comes with 40mm conical burrs that gives it the ability to produce consistent grinds, these burrs will also remain sharp for years. Very Programmable to ensure you get the grind you want
Features
High Quality Long lasting Burrs
Extra quiet and robust gearbox
40 settings quickly adjustable with 8oz hopper
Powerful Motor with Automatic Resetting Thermal Cutoff Switch
The grinder can be user calibrated
Unique speed control
Burrs are easily removable for easy cleaning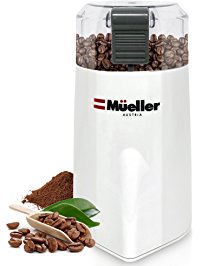 Mueller Hypergrind  Grinder
The Mueller Hypergrind Grinder is a Blade coffee grinder which means it can grind both Coffee Beans, Spices, and Nuts etc. It is a stylish design that Would not be out of place in any kitchen
Features
Gives consistent grinds
Compact and Stylish. It also has a small footprint so won't take counter space in the kitchen
Mueller put Quality before all else and the grinder goes through 3 rigorous inspections
Cuisinart DBM-8AMZ Supreme
Cuisinart Supreme Grind Automatic Burr grinder is finished in Brushed Stainless steel and is fully programmable with an Auto-Stop Function
Features
Burr Grinder for consistent Grinds
18 position grind selector
4 to 18 cup slide dial
Removable 8oz hopper
Grind Chamber holds enough grounds for up to 32 cups
Separate One-touch Power Bar
Electric Timer Automatically shuts off when grind cycle is complete
Capresso 560.01 Infinity
This Capresso is a conical Burr grinder with high precision Swiss made Burrs to give you the best performance possible. Couple this with a powerful motor that runs at <450rpm
Gives you consistent grounds
Features
Commercial Grade Solid Conical Burrs
16 marked fineness settings with four levels for each setting
Safety Lock System. Auto off when bean container is not locked
Upper Conical Burr removable for cleaning
Coffee Container Holds up to 4oz of ground coffee
Bean Container holds up to 8.8oz of beans
The timer can be set to grind from 5 to 60 seconds
Pulse Grinding Function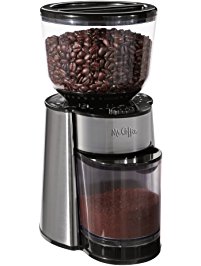 Mr Coffee Automatic Burr Grinder
This is a Burr Mill Grinder to give you the consistency of grind with one-touch operation. Has settings to help you get the right grind you want
Features
18 Grind Settings with cup size auto selection
4 to 18 Cups
Removable Hopper holds up to half a pound of beans
Auto Shutoff when the grind is complete
Removable Chamber for easy cleaning
Dual safety locking switch
Easy Cord Storage