Braun's BrewSense 12-cup Drip Coffee Maker, model KF7000, compact design and reliability makes you rich great tasting coffee, right in you kitchen . Braun's years of brewing knowledge, attention to detail and coupled with the  PureFlavor system all the flavour in your brew for that great coffee experience  . The streamlined design and sleek black finish allow Braun's BrewSense Coffee Maker will compliment any kitchen. With Braun precision, the unique carafe lid seals in all the coffee flavour, while the anti-drip system allows you to pour any time during the brewing cycle. A fully automatic 24-hour programmable timer means your morning cup will be ready and waiting for you to start your day the right way.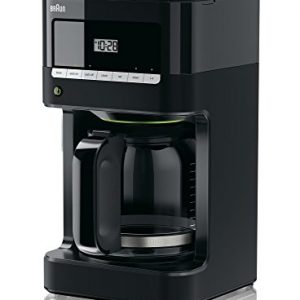 The features you get with the BRAUN KF7000 BREW SENSE
Braun Pure Flavour Technology
Ensures that your coffee is brewed at the right temperature and time to give you the best results
24 hour Programmable Timer
Set the timer and your coffee will be waiting for you. Also has auto shut-off feature
Brew Pause
Let's you pour a cup of java during the brew cycle
Water Level Indicator
You can see exactly how much water you have
Smart Design
Compact design to take up less space and also has convenient cord storage
Filter
You don't need paper filters. It has a charcoal water filter and a feature can be set for different water hardness
Control Panel
An easy control panel allows you to set your time brew etc
Some of the controls are
BREW – To start the brew and keep warm functions
AUTO ON – Where you program the start time and also has a PM function for night time
CLOCK – Displays the time and for programming
SET – Where you set auto-on/off and the hardness level of the water
CLEAN – This activates the descaling mode and water hardness
1-4 – Where you brew smaller amounts of coffee up to 4 cups
DESCALING
When it is time to descale your Braun  LED CLEAN will light up in green
Conclusion
With Braun you know what you are getting. This is an excellent drip coffee maker that will fit into any kitchen
. Everything is laid out logically And the control panel is easy to read. It also comes with a three-year warranty
For your peace of mind. It has a four-star rating so you can purchase with confidence.