With The Hamilton Beach BrewStaion you don't have a hot plate to keep your coffee hot. Not great for flavour
Your coffee is kept hot in an internal tank for your convenience, from first to last your coffee keeps that great taste
the other added bonus is that you don't have a glass carafe that can break
There is nothing like fresh grounds beans for taste and flavour of your coffee.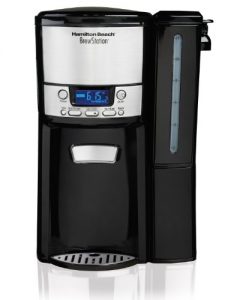 The features you get with the Hamilton Beach BrewStation
Maintains the fresh-brewed flavour that we all desire
You don't have your coffee sitting on a hot plate. It is stored in an internal tank
Brewing system is all internal with a heater keeping your coffee hot  
You can set the heat function to keep the coffee hot for up to 4 hours
Brews up to 12 cups To keep you going
Stores up to 12 cups of coffee. Simply dispense into your mug when you want
Works Just like a traditional drip coffee maker – has no carafe – holds coffee in internal tank
It works like a drip coffee maker but you don't need a carafe that can break
Easy to use the Press bar to dispense a cup at a time
You dispense your coffee fresh from the internal storage
Programmable for you to wake-up to that great fresh coffee aroma
Has a 24 hour programmable timer with four brewing options
Removable water tank for easy filling
The water tank detaches to allow for easy filling. No mess
Easy To Use
The Hamilton Beach BrewStation is easy to use.
All the functions are on the front panel, where you can set exactly what you want
and programme it for when you want it.
Spares
There are water filters, descaling packs and scoops available
Cleaning
The coffee maker can be cleaned with white vinegar. It comes with details instructions and is not complicated.
the water filter can be removed for easy cleaning, the tank filter cannot be removed and you need to run water through it
to keep it clean
The outside can be wiped down with a soft cloth and warm and soapy water
Cons
The machine has rubber legs so it is not easy to move around the kitchen counter
There is no way to empty the machine by decanting the coffee. You have to empty it one cup at a time
If you have people in the same house that like different brews then that can be an issue
Conclusion
The Hamilton Beach BrewStation is a very good coffee maker. It can not only brew a good hot cup of coffee
but it can also do a cold brew.
For the price you can't go wrong with this coffee maker, and if you are in a household where glass carafes tend to get broken
you won't have that problem with this coffee maker
It has a solid four star rating
We would definitely consider this coffee maker
The Bean Brewer